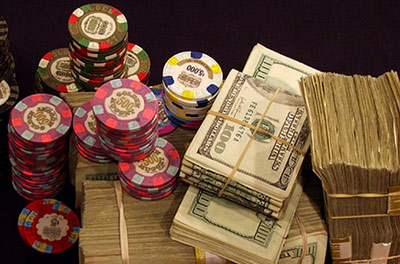 Of course, one of the main goals when playing at a brick and mortar casino or one of the top online casinos is to win…unfortunately, you 'have to risk it to get the biscuit' and when it comes to casinos, that means investing some of your hard-earned cash.
The biggest question is…how much is too much? And how do you know when to cut your losses and call it quits? The answer to these questions is learning to manage your casino bankroll!

Josh says
Always gamble within your means and never use money you can't afford to spend. Managing debt and possible financial ruin is way harder than managing your casino bankroll!
5 Tips on Managing Your Casino Bankroll
Below, I will give you 5 of my top tips for deciding and managing your casino bankroll; simply check out the following tips and you surely can't go wrong!
Decide on a Gaming Budget
Setting a gaming budget is the first thing that you should do when considering gambling online. Playing online should be treated as any other entertainment expenses in your life. For instance, you wouldn't spend more money on an elaborate vacation than you could afford, so you should follow that same thinking with your casino bankroll.
Basically, the most important rule is to NEVER spend more than you can afford to lose. You should only spend as much as you would feel comfortable to spend on an 'entertainment' expense and also keep in mind the possibility that you could potentially lose all of it.
To make sure you approach deciding on your casino bankroll realistically, you should always imagine that you are definitely going to lose all of it and consider how that makes you feel. If it makes you extremely anxious – your budget is too big! If it doesn't bother you that much, you are on the right track. Of course, you aren't really planning on losing all the money (you are actually hoping to win!) but imagining how you would feel in that state is important in case you do have a really bad streak of luck and do end up losing it.
Deciding on a gaming budget and STICKING TO IT no matter what is essential to managing your casino bankroll. Don't ever spend more than you had originally planned to…if your budget is a little lower than you hoped it would be, rather look for great online casino welcome offers that give you cash backs and bonus matches to help you increase your bankroll instead of depositing more.
Keep Track of Your Wins and Losses
It can sometimes be very easy to focus on your successes instead of losses, but when trying to manage your casino bankroll properly, it is important to always know both how much you have won and how much you have lost. Sometimes a small win can seem very big until you realise how much you actually spent in order to achieve the win.
When managing your casino bankroll, you should minus your total deposits from your total withdrawals to see if you have actually made any profit. When it comes to your bankroll, winnings only count if you actually withdraw them. If you leave your winnings in your account, or even worse, spend them again, you won't really have made a profit at all.
You should keep careful track of your deposits and withdrawals every time that you play. Depending on the frequency of your gameplay, you should make it a point to sit down once a week or once a month and see if you have actually made any profit based on the past week/months withdrawals. If you have made a loss, you should try and take that loss out of next week/months gaming budget to make sure that you don't overspend in the long run. If you have made a profit, you can then decide whether to add that to next week/months budget or whether to save or spend it on something nice for yourself – I, of course, would advise you to save it and try to keep your gaming budget consistent instead.
Stay Within Your Bet Range
Betting too big or too small can be a major issue when it comes to casino bankroll management. If you bet too big, you can risk losing all of your money too quickly (especially if you're on an unlucky streak) and if you bet too small, you can risk wagering too many times and achieving wins so insignificant that it makes more sense to gamble them again instead of withdrawing them.
Your maximum and minimum bets should be completely determined by the size of your casino bankroll. A good rule to follow is usually to only bet 1% of your total deposit per wager. That means that if you deposit $100, then you should never make any bets bigger than $1, if you deposit $500, then you should never make any bets bigger than $5, etc.
Following the 1% rule is usually a great strategy because if you win a wager it should make a sizable difference in your total and if you lose a wager, it won't be a devastating loss to your total. This is also just a great technique to make sure that you make the most out of your playtime and don't lose your whole bankroll within a few wagers over a couple of unlucky bets.
Don't Get Emotional
"Gambler's high" is a rush experienced by gamblers after a win at a casino. As soon as the wins start coming, your adrenaline spikes and you experience an almost euphoric feeling. While this rush of emotions can feel great, it can also lead you to be overconfident or worse…it can become addictive – meaning that you become careless and are willing to risk more in order to chase that sensation.
I am definitely not saying that you shouldn't be happy about your wins, because you definitely should! All I'm saying is that you should keep your emotions separate from your decisions regarding your bankroll. Feelings of loss, anger or desperation, can cause you to chase your losses and end up losing even more in the process. Feelings of elation and excitement can cause you to spend your profits instead of withdrawing because you are on a lucky streak or even worse, it could cause you to start wagering recklessly and burn through your money very quickly.
When gambling online, you shouldn't let your emotions influence any split moment decisions about how to manage your bankroll. While it is perfectly normal to feel a wide variety of feelings while gambling, you should never act on them. Always stick with your initial plan and budget no matter what happens at the casino and how you feel about it.
Being able to keep a level head and make smart decisions no matter what happens is one of the biggest things that distinguishes an okay player from a GREAT player.
Withdraw Your Initial Deposit As Soon As It Doubles
As I previously mentioned, it is only technically an actual win if you withdraw your money. A good habit to get into is that as soon as you reach twice your initial deposit total, you should withdraw your initial deposit amount. For instance, if you deposit $100 the as soon as your balance reaches $200, withdraw $100 of it. Now you are back to your initial budget, except you have already broken even because you have your own money back and can continue to play with your profit.
You should continue to do this each time that you double your initial deposit amount. So, using the previous example, you have already withdrawn $100 and are now playing with your $100 profit. You manage to get your balance to $200 again, you should now stop and withdraw another $100. You will now have your initial $100 back, as well as $100 profit AND you still have $100 to continue playing – it's a win-win situation all around!
If you stick to this method, it will stop you from turning winnings back into wagers and help you work towards withdrawal targets instead. On top of that, it will also help you to curb overspending if you stick to it and don't touch the money that you have already chosen to withdraw.
Keeping your casino bankroll at a consistent level also helps you to be a level headed and controlled player as it stops you from making ridiculously large stakes after a win just because you have more money to burn. Withdrawing your deposit amount each time your balance reaches twice its total will keep your casino bankroll at a level that you are comfortable with and you won't let emotions overtake your rationality when you are on a winning streak.
In Conclusion
Overall, one of the best ways to ensure that you have a great time playing is managing your casino bankroll properly. Spending too much is likely to cause stress and gambling is supposed to be a fun form of entertainment – not a source of unhappiness. If you always stick to these 5 casino bankroll management tips, I guarantee that your time at the casino will be a lot more pleasant, because even if you lose, at least you won't have lost more than you could afford to or more than you are comfortable with.
Top Rated Online Casinos
Sign up and instantly claim up to $1500 Free
Superior browser play experience (Mobile/ Download available)
Huge selection of Massive Jackpots, Casino and Live Dealer games
New Zealanders will experience helpful customer service and a great selection of Kiwi deposit options
Claim $1600 Free over 2 deposit match bonuses
Play New Zealand's favourite casino brand on Mobile, Desktop or Browser
Many deposit options incl; Visa, POLi, Neteller, Ukash
Super Fast cash outs and 24 hour customer service
$1000 Free split over 3 deposits
Progressives Slots, Blackjack, Roulette, Video Poker and more
Established in 2001 and eCogra certified
Secure banking and fast withdrawal times