Evolution Gaming, well known as live casino game specialists, thrilled audiences at ICE London with the reveal of Crazy Time. Billed as 'the most fun casino game ever created,' the title has been lauded for its striking visual style and unique mechanics. The game show-style presentation entertains while offering the chance at big wins.
Crazy Time has lived up to all the expectations and hype from its ICE London reveal, now that it has been released for public play. This game includes four bonus games, varying player interaction opportunities, enriching multipliers, and an immersive game show experience.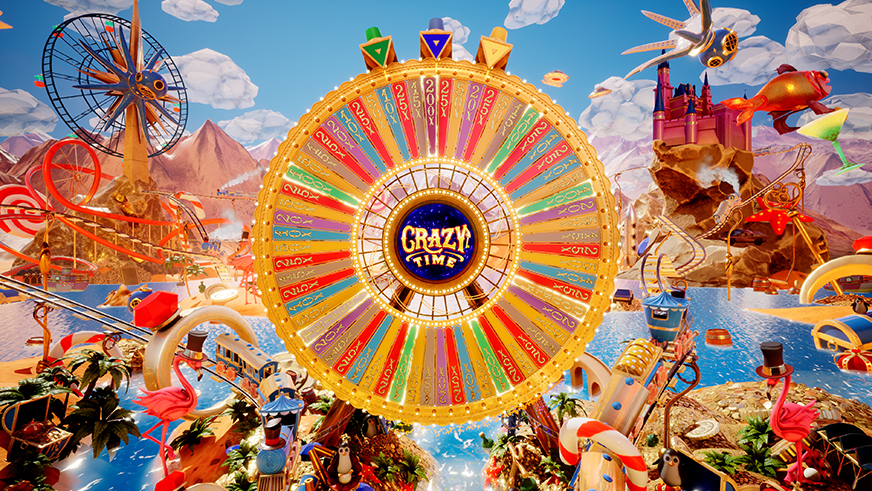 Nuts and bolts
Crazy Time stays true to its name by providing an over-the-top experience with some borrowed elements, such as the spinning money wheel which was previously seen in Evolution Gaming's Dream Catcher. This isn't a case of pure duplication as the spinning money wheel has been modified to include four bonus bets.
The bonus bet rounds have Pachinko, Crazy Time, Cash Hunt, and Coin Flip for you to play. These are all separate mini-games with their own specific presentation.
The development of this title was a triumph of ambition and many challenges were overcome to bring it to life. A spokesperson for Evolution Gaming revealed that this is the most expensive project the company has ever taken on.
Top-notch
The spokesperson further explained that the live casino game took over a year of production to bring it to the industry showcase, before its launch. Various teams collaborated, utilizing the latest technology to reach their combined objective. The result is an exhilarating mix of augmented reality, large scale Random Number Generator mini-games with an astounding variety that has delighted players worldwide.
Todd Haushalter, the studio's chief executive product officer revealed that the central concept behind Crazy Time was creating an experience that is as engaging as watching the most popular TV game shows. According to him, this was achieved by packing as much variety as possible into the game and providing constant opportunities for 'audience' interaction.
The game available to play now and is rapidly gaining a dedicated fan base.​