The New Zealand International Convention Centre construction site in Auckland was devastated by a fire on Tuesday 22 October. The blaze was severe enough to impact the entire central business district around the new convention centre, resulting in an evacuation. The entire SkyCity enterprise in the area, including head offices, restaurants, casino and hotels were affected.
The convention centre is SkyCity's exclusive project and the fire is a potentially a huge setback for the company. The cause of the fire has not been revealed to the public, fortunately, the actual flames and fire damage were confined to the construction site, with the casino and surrounding buildings remaining unscathed.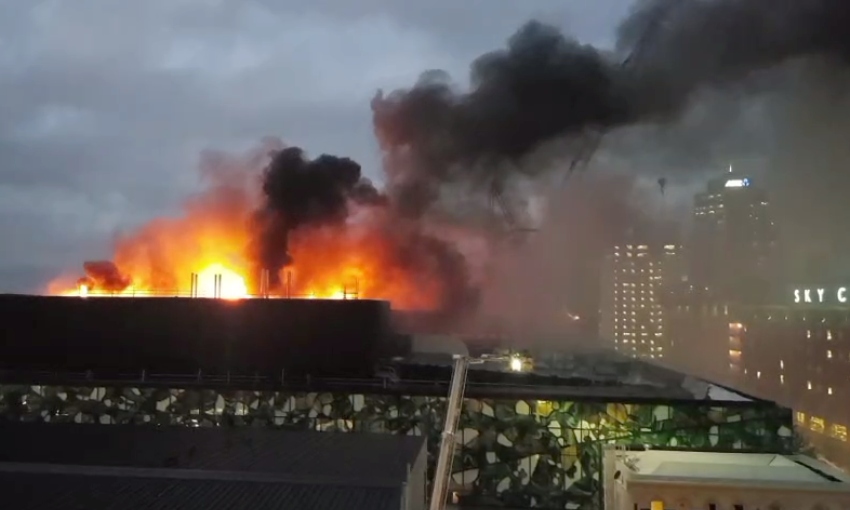 Image: Skycity convention centre on fire.
Safety concerns push union to strike
The SkyCity casino was reopened a mere 2 days after the fire.  The Sky Tower opened the following day and the group head offices are expected to reopen this week.
The local union, Unite Union, perturbed by this sequence of events, has instructed their members working in the casino to down tools. The union has expressed that the return to work is dangerously premature. Some casino workers have reported having breathing issues and other respiratory complaints during their shifts on Thursday and Friday. The union wants their 1000 members to stay away from work until the air quality has been formally declared safe, in writing.
SkyCity representatives have stated that emergency officials gave them the all-clear regarding the safety of the air quality, with assurances that it would not harm those in the area.
Setbacks for SkyCity
CEO of SkyCity, Graeme Stephens, announced that he is impressed at the company's handling of the crisis, with no reported injuries as a result of the fire. A total of 1250 staff members were evacuated without incident and structural damage was limited to the construction site.
The biggest blow to SkyCity has been the damage to the under-construction convention centre. The previously set completion target of the centre to be open and operational by 2021 now seems highly unlikely. The company has yet to complete a full assessment before advising on a new timeline.
​