We read about them, we see them in the movies and on TV, we even follow them on social media. But for most of us, that's as near as we get to being a celebrity, let alone having their spending power.
And it's not just a distant reality, it's an all-but-impossible one to attain except for a tiny minority of the world's population, especially as the super-rich do own a huge majority of the world's wealth.
For the rest of us, we could only ever find ourselves in the world of private jets and superyachts, drinking vintage champagne like water and having priceless pieces of art on the walls, if we won the lottery or came into quite a remarkable amount of money.
So, to see just how the mega-rich spend their money and to put it into some context for the average New Zealander, we've taken a look at some of the most extravagant spending sprees and purchases that have been reported to date. Then we've looked at just how far from most people's everyday experience they are, as well as how hard we'd have to work if we wanted to even get close to that kind of lifestyle.
The really big-ticket items that celebrities tend to buy fit quite neatly into five categories. So let's take a look at each one in turn and see just where the big spenders' cash has been going. We've converted all the amounts into New Zealand dollars, even though the original purchases were mainly made in GBP or US dollars.
Transport
When they do get out into the world, there's no doubt that today's celebrities like to do it in style. There's no waiting around in airport lounges or in line at the departure gates to eventually be able to show their boarding passes. It's private jets all the way and some, like John Travolta, even like to pilot the aircraft themselves. However, most tend to just satisfy themselves by owning the plane in question.
Before he took to Air Force One, President Trump spent a cool $156 million dollars on a Boeing 757 to fly him around, landing deals everywhere from Scotland to Moscow. As if this wasn't indulgent enough, he also decided that it didn't quite have the requisite amount of bling, so he even installed a gold-plated toilet in the already very lavishly-fitted-out aircraft.
Although it pales in comparison, the $56 million that Tom Cruise splashed out on a Gulfstream jet as a wedding present for Katie Holmes is still quite an impressive sign of his commitment – sadly not one that lasted. But one couple that's still together made a similar gift to each other when Jay-Z and Beyoncé bought a private jet costing a cool $62.5 million.
And it's not just up in the air that the golden couple have indulged themselves. In return for him putting a ring on it, Beyoncé also treated her husband to a top-of-the-range Bugatti Veyron Grand Sport, yours for a cool $3 million. It just goes to make the $692,000 that Diddy splashed out on the Phantom Drophead Coupe look positively restrained by comparison.

Clothes and self-care
When you're in the public eye, it's important that you take care of your image and appearance. After all, the last thing you want to do is appear to be like a mere mortal. Your clothes must be couture, your complexion must glow, your hair must be perfect. In short, you have to appear as if you're quite simply not of this world.
So, it's no surprise that there are some pretty extravagant examples of how the celebrity elite make sure they stay on-trend, or preferably ahead of it, no matter the cost.
So let's kick off with the boy wonder Justin Bieber. He's said to spend nearly $1,200 per haircut to keep his locks in shape. It's not known whether his barber gets a tip on top, but at 10% that would be a very handy bonus. An even more extravagant example of self-care comes from Jennifer Aniston who, it's said, has a beauty routine that costs $12,500 a month and which includes a moisturizing cream that contains mineral crystals apparently obtained from the surface of Mars.
Turning to clothes, you'd expect Victoria Beckham to be quite lavish in her spending habits, and you'd be absolutely right. On one shopping spree in the international fashion capital of Milan in 2010, she was reported to have spent a quite staggering $1.8 million, although she did claim that not all of the clothes were just for her.
Our last example again comes from the high-spending Beyoncé, who once bought a $156,000 gold Balenciaga leggings and bra set – but then we are talking about a woman whose favourite tipple is Armand de Brignac champagne which retails at $430 a bottle.

Property
For most of us, paying for our homes is probably the biggest single expenditure of our lives. And this is at least one thing that we have in common with most celebrities. For all the cars, clothes and other trappings of their success, it's the property that they own that probably makes the biggest single dent in their finances.
Sometimes it's not just property, it can even be whole islands. Of the many examples of this empire-building urge to own a whole, self-contained piece of land, two really stand out.
When Johnny Depp saw that Little Hall's Pond Cay in the Bahamas was on the market for $5.6 million he snapped it up without a thought, not to mention considering the $1.5 million a year it would cost him for the upkeep of the 45-acre island. There was a similar story when Leonardo DiCaprio happened upon Blackadore Caye off Belize and paid $2.7 million for it with the intention of turning it into an eco-resort.
But this is nothing when compared to the $31 million that 9½ Weeks star, Kim Basinger, spent on Braselton, Georgia, again hoping to turn it into a tourist destination. Unfortunately, this venture failed and even led to her subsequent bankruptcy.
While they were married, Brad Pitt and Angelina Jolie were certainly not reticent about spending money on homes for their ever-expanding family. At one point, they owned both a $104 million French chateau and a $120 million home in Italy too, not to mention various other properties in the States and the UK.
Art
Once you've bought that mega-million-dollar mansion, you're left with the question of how to fill it with objects that either show off your extreme wealth, make your life more comfortable or, preferably, do both of these things.
One of the most obvious ways to achieve the former is to start putting together your own personal art collection – and there is no shortage of examples for this.
Starting with the Beckhams, their collection is said to be worth around $41 million and to be themed around love. Among the artists whose work they're known to collect is Damien Hurst. They've even called up the services of the controversial artist to create a bespoke picture called Daddy's Girl for their daughter, Harper.
Over in the US, film director and Star Wars creator, George Lucas, has one of the world's largest private art collections. Featuring many paintings by Norman Rockwell, it's said to be worth nearly $940 million, dwarfing the $15 million collection owned by Leonardo Di Caprio.
Children and pets
While there's an element of egomania to being a celebrity, it doesn't mean that they're not prepared to share some of their massive wealth with loved ones of the human and animal variety.
So, let's take a look at the indulged little ones to begin. First for an honourable mention is little Zachary, son of Elton John and David Furnish. They thought he needed some space of his own, so they treated him to his own Los Angeles apartment costing a cool $3 million. Extravagant yes, but for a couple who reportedly spent $454,000 on flowers over a 20-month period, it's all relative.
Mariah Carey's twin boys, Morocco and Monroe, also had plenty to look forward to for their first birthday when they received matching mini white pianos and toy Ferraris apiece. After all, it's never too early to get them ready for the high life.
Another lucky tot is Beyoncé's Blue Ivy, who started being showered with gifts even before she was born, including a Swarovski crystal-encrusted baby bath from Kelly Rowland – price tag $8,000 – as well as $1,500 Bugaboo stroller from Gwyneth Paltrow.
Moving on to pets, Mariah Carey shows almost as much love for her dogs as she does for her children by spending $73,000 a year on their grooming, and Paris Hilton famously spent $500,000 on a dog mansion, complete with TVs to entertain them.
But the record must surely go to Mike Tyson, who bought three rare Bengal tigers for $110,000 each and then had to spend $300,000 a year feeding them. It was only later that it was revealed that he didn't have a license to keep dangerous animals, and they were sent to a far more suitable, if considerably less lavish, home.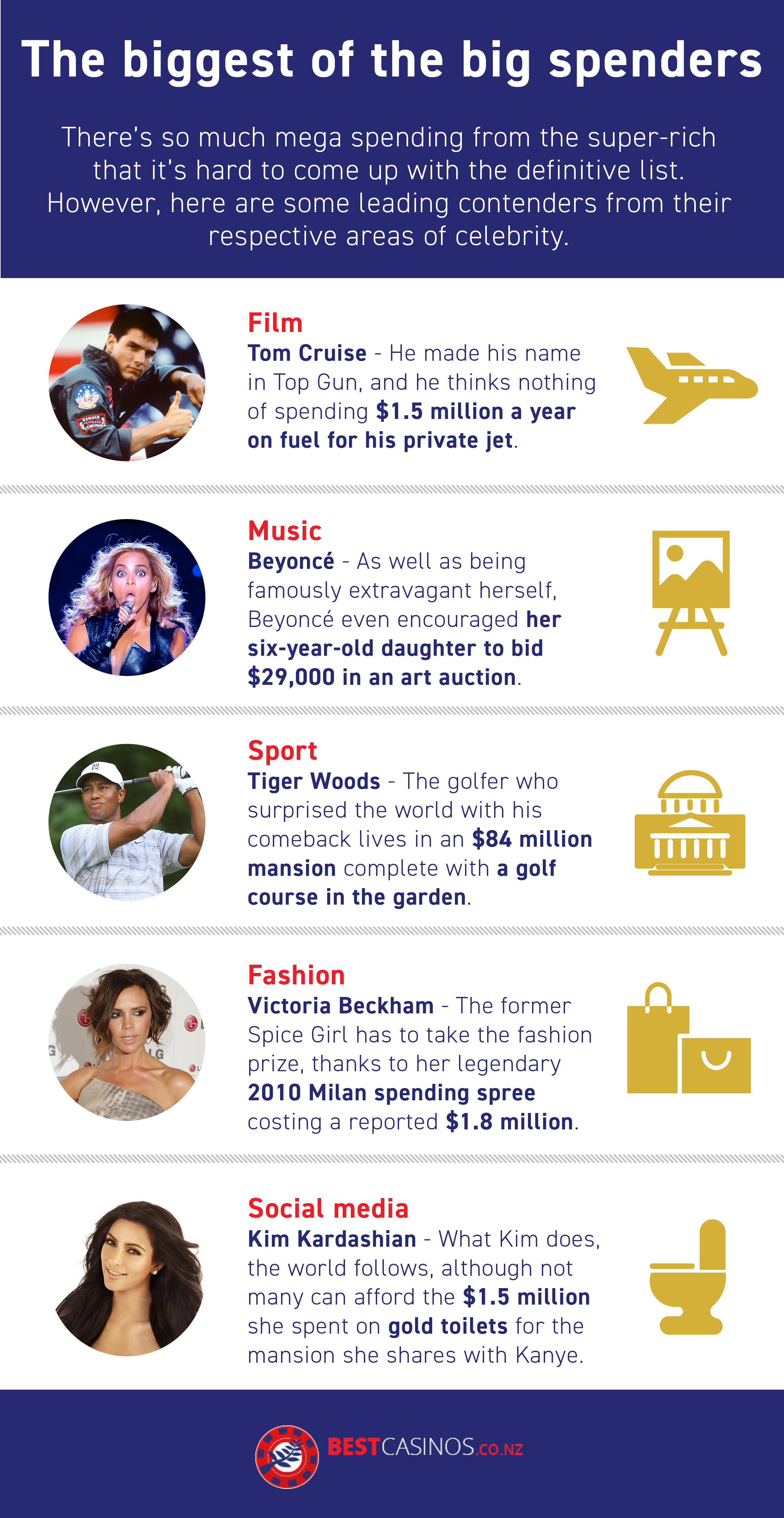 It's a commonly asked question, and one that many people dream about or aspire to achieve, so we decided to put out a survey for the people of New Zealand to gauge just how much money people think that they need to live their life without the need to work or rely on savings.
The complete six-question included questions concerning: how much they think is needed to no longer need to work or rely on savings; how well they'd live if said amount of money was won; what they'd do about their current career; how private they would keep the announcement of their big win; how much they'd give to friends, family, or charity; and if they'd stay in New Zealand.
The focus of the questions was around the thinking that X amount of money would last them for 40 years without having to work again or rely on savings, so people in the age groups of 35-44 and 45-54 provided the most acute data for the question as 40 years for them will most likely see them through retirement and to the end of their life, but the other age groups still provided valuable data, which we will also examine.

Before we delve into the results of the survey, we further need to define how much someone would actually need to win all at once to be able to live for 40 years. According to the US-based CNBC, it was found that US$1 million may only last someone 12 years, meaning that for 40 years, people would need US$3.2 million, which converts to NZ$4.7 million. Money Wise, a UK finances expert website, found someone who plans to live on £12,000 per year, which would only entail a need for £480,000 (NZ$927,000) over 40 years, but less frugal and more normalised calculations clocked in at a need for £1.6 million (NZ$3.1 million) for 40 years of living.
The cultural and societal differences will certainly have their say in these calculations, so the truth for a fair amount to live off of without being overly frugal for 40 years likely sits in the NZ$3 million to NZ$4.5 million range. In New Zealand, the 2018 Living Wage stood at an annual income of NZ$42,744, leading to the baseline over 40 years from this living wage being NZ$1.7 million, but this would likely entail a rather frugal existence, so we extended the range to allow for unexpected expenses, entertainment spending, rent or mortgage payment, basic household goods, and all other expenses that would need covering over 40 years and still allow the pot to last for that period of time.
Question 1: How much money do you think you'd have to win to last you 40 years (without having to work again or rely on savings) [in NZ$]?
Question 1 was split into seven answers, with participants selecting one of the following: 1 million to 1.99 million; 2 million to 2.99 million; 3 million to 3.99 million; 4 million to 4.99 million; 5 million to 6.99 million; 7 million to 9.99 million; 10 million-plus. As has been famed by American media, people dream of winning US$1 million as it's portrayed as being enough to solve all monetary problems, so we decided to set the low-end of the survey at NZ$1 million.
A dominating 28 per cent of the respondents ticked the 10 million-plus answer, with the next most popular answers being the 2 million to 2.99 million range with an 18.4 per cent of those surveyed, closely followed by the 16 per cent who thought that 1 million to 1.99 million would be enough money to last them for 40 years without having to work again or rely on savings. Across the two categories, a combined 20 per cent of voters saw in line with our calculations of the quantity needed to live for 40 years.
The age groups of particular intrigue, 35-44 and 45-54, combined for a majority that saw 2 million to 2.99 million as being the amount needed with 23.1 per cent. 10 million-plus followed with 20.5 per cent, shortly followed by 17.9 per cent going for the 1 million to 1.99 million option.
Given the fantasy context of this question, it makes sense that many would select the NZ$10 million-plus option as it's a huge amount of money reserved for the biggest of wins. Take the world record-breaking jackpots from progressive slot game Mega Moolah, for example; it currently holds the official world record payout at NZ$25.4 million as well as the not-yet officially verified new world record of NZ$31.3 million. In fact, the most recent Mega Jackpot win on the game by a New Zealander clocked in at NZ$8.3 million, which followed fellow Kiwi wins of NZ$1.6 million, NZ$10.1 million, and NZ$1.1 million. Then there's the added hype around the biggest gambling event in the world, the World Series of Poker, which has offered huge first place prizes of NZ$26.7 million, NZ$22.3 million, NZ$17.5 million, and two lots of NZ$14.6 million since 2006. So while these wins aren't unheard of, even in New Zealand, they are still considered fantasy and considered in line with the fantasy of never having to work again.
Overall, it's understandable why more people would select the highest value because it would give them more leeway in their day-to-day lives and allow them to live more extravagantly. The highest option was also the safest as the even the least financially or mathematically savvy person would be safe selecting 10 million or more as a big enough win to live off of for 40 years. The two lower values received a strong chunk of the votes, likely representing those who interpreted the question as the amount needed for them to stay exactly as they are now for the next 40 years, or something similar to this notion.
Question 2: If you won the amount of money indicated in Question 1, presuming you had no other income, would you be able to:
To answer this question, 8.2 per cent said that if they won the amount that they selected in Question 1, it would enable them to live frugally for 40 years, 29.5 per cent said that the amount would let them live a moderate lifestyle, 42.6 per cent would live comfortably with the amount that they selected, and 19.7 per cent said that they would live luxuriously. Given that a combined total of 45.6 per cent selected options from 5 million to 10 million-plus, it shouldn't come as a surprise that the majority (62.3 per cent) reckoned that they could live comfortably or luxuriously for 40 years if they won that amount.
Strangely enough, of the group which selected live frugally, 50 per cent were from the group that picked 10 million-plus in Question 1, meaning that they consider an average of NZ$250,000 per year at a minimum requiring a frugal lifestyle. But this somewhat anomalous finding is nicely countered by the 52.4 per cent of those who selected the live luxuriously option being in the 10 million-plus group.
Of those who were in line with our estimations in Question 1 (selecting either the 3 to 3.99 million or 4 to 4.99 million option) 47.1 per cent saw these amounts as being enough to allow them to live moderately or comfortably.
Question 3: If you won enough money to last you 40 years (without having to work again or rely on savings), what would you do in terms of your career?
The voting for Question 3 was split fairly evenly with 27.1 per cent of respondents opting to continue working as normal, 25.4 per cent reducing the working hours at their current job, 25.4 per cent choosing retirement, and 22 per cent changing their job.
Across the age groups of 35-44, 45-54, 55-64, and 65-plus, 31.8 per cent selected retirement (the most selected option when combining these four groups), which is understandable as having enough money to see them through 40 years is quite possibly enough to see them to the end of their lives in many instances. The results also showed some disparity between males and females, with 32.6 per cent of males retiring on their selected amount of money to last them for 40 years compared to only 21.2 per cent of females doing the same.
The relatively small number of respondents selecting the retire option is somewhat of a surprise given that the premise is that the amount of money that they select is enough to last them for 40 years, with the majority thinking that their selected amount of money should see them live a moderate or comfortable lifestyle. Of the percentage of people who would continue to work as normal, a significant 23.3 per cent also selected 10 million-plus as being a win big enough to see them no longer need to work or rely on savings. This desire to continue to work in some capacity, as shown by 74.5 per cent of participants, could come down to workplace friendships, the need to keep occupied, the voters having a genuine fondness of their job or the prospect of a different job, or the societal influence to contribute and make more money.
Question 4: If you won enough money to last you 40 years (without having to work again or rely on savings), would you want it to be publicly announced or kept private?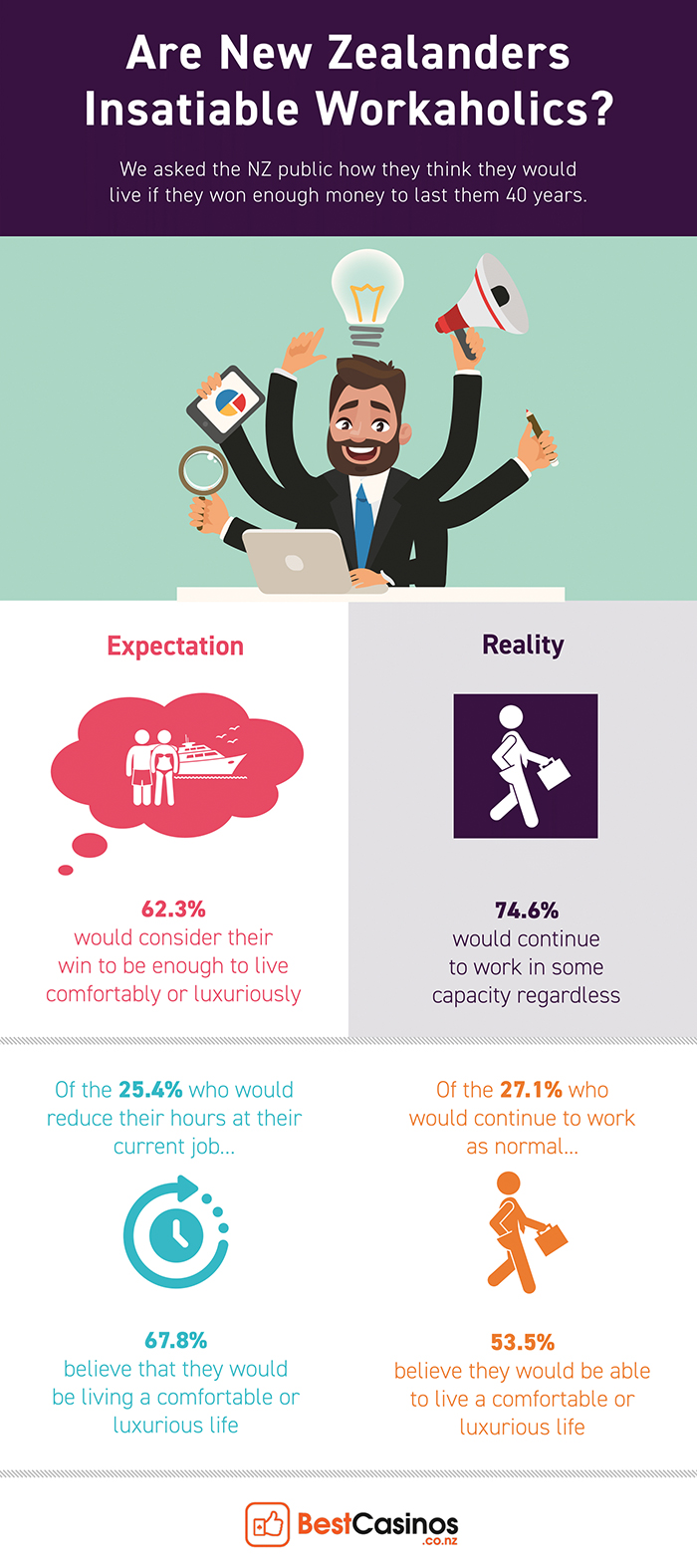 Unsurprisingly, the vast majority of people answered that they would keep their big win private, with 82.9 per cent ticking keep private, 7.2 per cent going for a public announcement of the win, and 9.9 per cent simply not caring either way.
Despite the view of younger people being somewhat brash when it comes to money, the largest representation of an age group among those who would make a public announcement was of the 45-54-year-olds at 14.3 per cent, with that same age group being the only one to tally a 'kept private' percentage below 80 per cent (76.2 per cent).
Curiously, 42.9 per cent who would publically announce the big win also believes that the win noted in Question 1 would only allow them to live frugally for 40 years. Of the vast majority of those who would keep the big win private, a 51 per cent majority would continue to work as normal or just reduce their work hours at their current job.
Question 5: If you won enough money to last you 40 years (without having to work again or rely on savings), what proportion would you donate to charity or gift to family/friends?
This is the classic question posed to many figurative jackpot winners, and while the vast majority of people say that they would share the wealth with their friends, family, or charity, the results of our survey found that a good portion of those questioned were a bit stingy. Of the respondents, 10.8 per cent said that they would give 0 per cent, 18.0 per cent said that they'd give 0.01 to 4.99 per cent of their win, 19.8 per cent said that they'd give between five and 9.99 per cent, the most popular option was to give 10 to 19.99 per cent with 31.5 per cent choosing this option, and then 19.8 per cent would give up 20 per cent or more of their newfound wealth.
It was found that females are generally more generous than males, with 63.2 per cent of all females surveyed opting to tick the 10 to 19.99 per cent or 20 per cent-plus box while only 43.6 per cent of males did likewise. The results revealed the age groups of the most interest (35-44 and 44-54) accounted for 65.7 per cent of the selections of the two most generous options. Somewhat of an odd finding was that 9.5 per cent of those who would give 20 per cent-plus also thought that their big win that would be enough for 40 years would also lead to them leading a frugal life.
Question 6: If you won enough money to last you 40 years (without having to work again or rely on savings), would you stay in New Zealand or move abroad?
For this question, there was a simple set of two answers: stay in New Zealand or move abroad. A massive 86 per cent of the 107 respondents declared that they would remain in New Zealand if they won enough money that they wouldn't have to worry about work or rely on savings for 40 years.
It shouldn't come as a surprise that the 18-24 age group was the most venturous, with 33 per cent stating that they'd go abroad compared to only ten per cent of those aged 65-years-old or over. Possibly tied to these findings: 40 per cent of those who stated that they'd move abroad also selected that they'd change their job if they reeled in the big win. While not as low as the 65-plus age group, but only 15.2 per cent of people in the 35-44 and 45-54 age groups would leave New Zealand in this instance.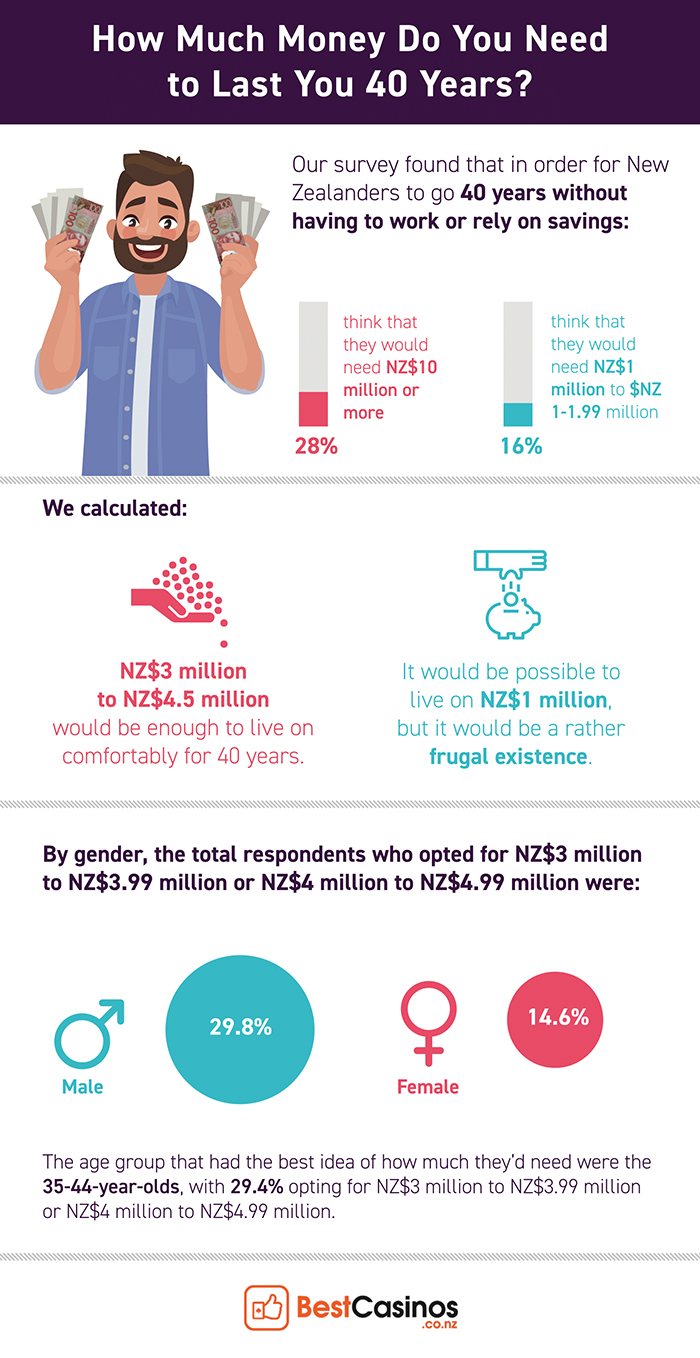 The activity of the majority
There you have it: if someone was to win enough money to last them 40 years, the majority of people would expect that amount to be in excess of NZ$10 million and for it to allow them to live comfortably. After landing the big win, they'd most likely continue working as normal but would keep their newfound wealth private. But being private doesn't mean being greedy, as the majority of people would gift 10 to 19.99 per cent of their win to charity, their friends, or their family, most likely staying in New Zealand to enjoy the rest of their money.